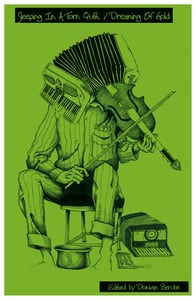 $

10.00
A handmade, high-quality literary zine packed with 50 full color pages of stories, poems, essays and artwork by:
Nada Alic
Donivan Berube of Blessed Feathers
George Bilgere
Sarah Jurado
Peter Pisano of Peter Wolf Crier
Robbie Rimsky
William Schaff
Cameron Sharpe
Jacob Singer
Laurel Sprengelmeyer of Little Scream
Jon Stone
Sharon Van Etten
and Alyssa Schulte, Makael Flammini & Ella Dwyer,
and Vanessa Devaki Andrew with the Temporary Mural
Project of the Sky High Skate Shop & Art Gallery in
Milwaukee, Wisconsin.
Cover artwork 'Violin Head' by Will Schaff.
More information at www.facebook.com/tornquilt
This publication is currently out of print.